From One Hand To Another is a small unique calligraphy business that turns the spoken word(s) into visual art, promotes the importance of good handwriting skills and proves Fohtatarians (clients) with personalized & spiritual gift-giving.
The FOHTA Gallery mission is to host artist & their craft and any other unique medium that have been overlooked
in the mainstream art world.
Father's Day Notecards
4 designs -2 Each -5X7 - LOCAL ORDERS - SHIPPING ORDERS -8 cards $15.00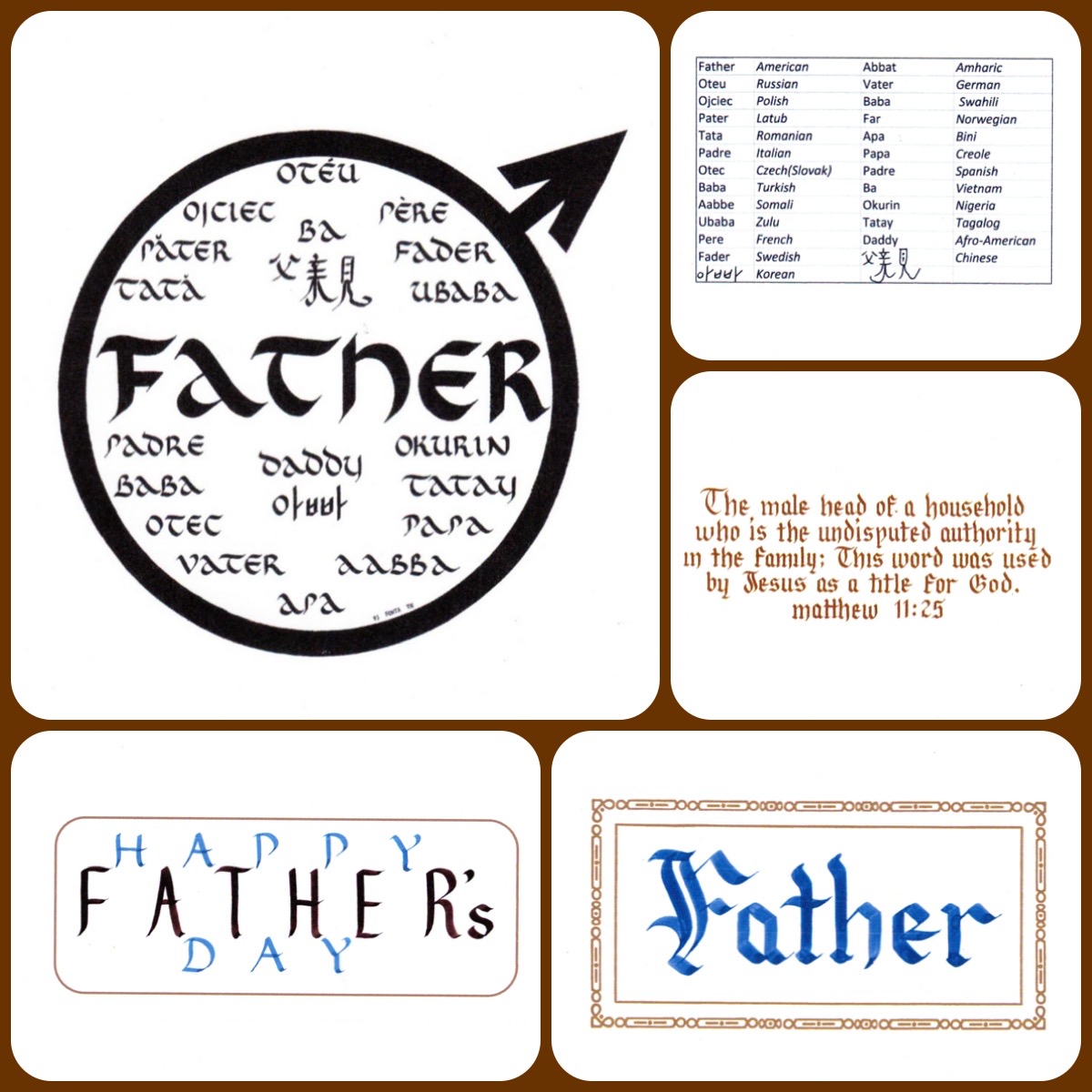 "Thank You" Notecards
2 Designs - 3x5 - 10 cards for $12.00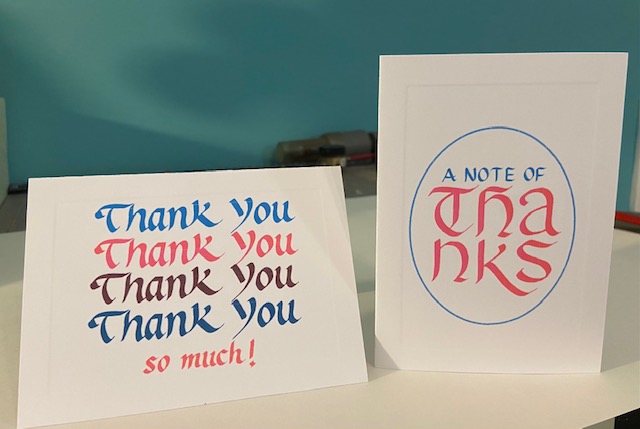 Local Orders Shipping Orders
Save the Date: The FOHTA Collection will be at the
Black Employee Council (BEC) of Arlington County Government
Third Annual Juneteenth Peace Rally"Lift Every Voice"
on Friday, June 17th -11:00am - 1:00pm - 2100 Clarendon Blvd, Arlington, Virginia 22201
"LIFT EVERY VOICE AND SING"
Words by James Weldon Johnson - Music by J. Rosamond Johnson
The Visual Art Piece
See the NBC 4 Washington segment of Lift Every Voice And Sing at:
https://www.nbcwashington.com/news/local/celebrating-juneteenth-lift-every-voice-and-sing/2705598/

Song Performance by Cherie Davis cheriedavissoprano.com
LIFT EVERY VOICE AND SING" started out as a poem, then hymn, then The National Negro Anthem and finally the The Black National Anthem.
It is now a collectable "Visual Art Piece."
This hand-lettering print of The Black National Anthem is 24 x 54 inches signed and numbered,
a certificate of authenticity, emboss with the FOHTA seal and includes a black hanging frame which makes it a scroll of HOPE.
Red, Black, and Green represent the colors in Black Liberation Flag.
PRICE: $250.00
YOUR STATE OF MIND Series
The 50 states and their attributes done in calligraphy
All 50 states are available including the District of Columbia.
Fact Attributes: meaning of name, admission to the union, inhabitant, capital city, flower, tree, and state bird.
This is the perfect gift for newlyweds, an individuals who is relocating,
or anyone who wants to learn about his or her state.
$42.40
CASH APP for local orders: $FOHTA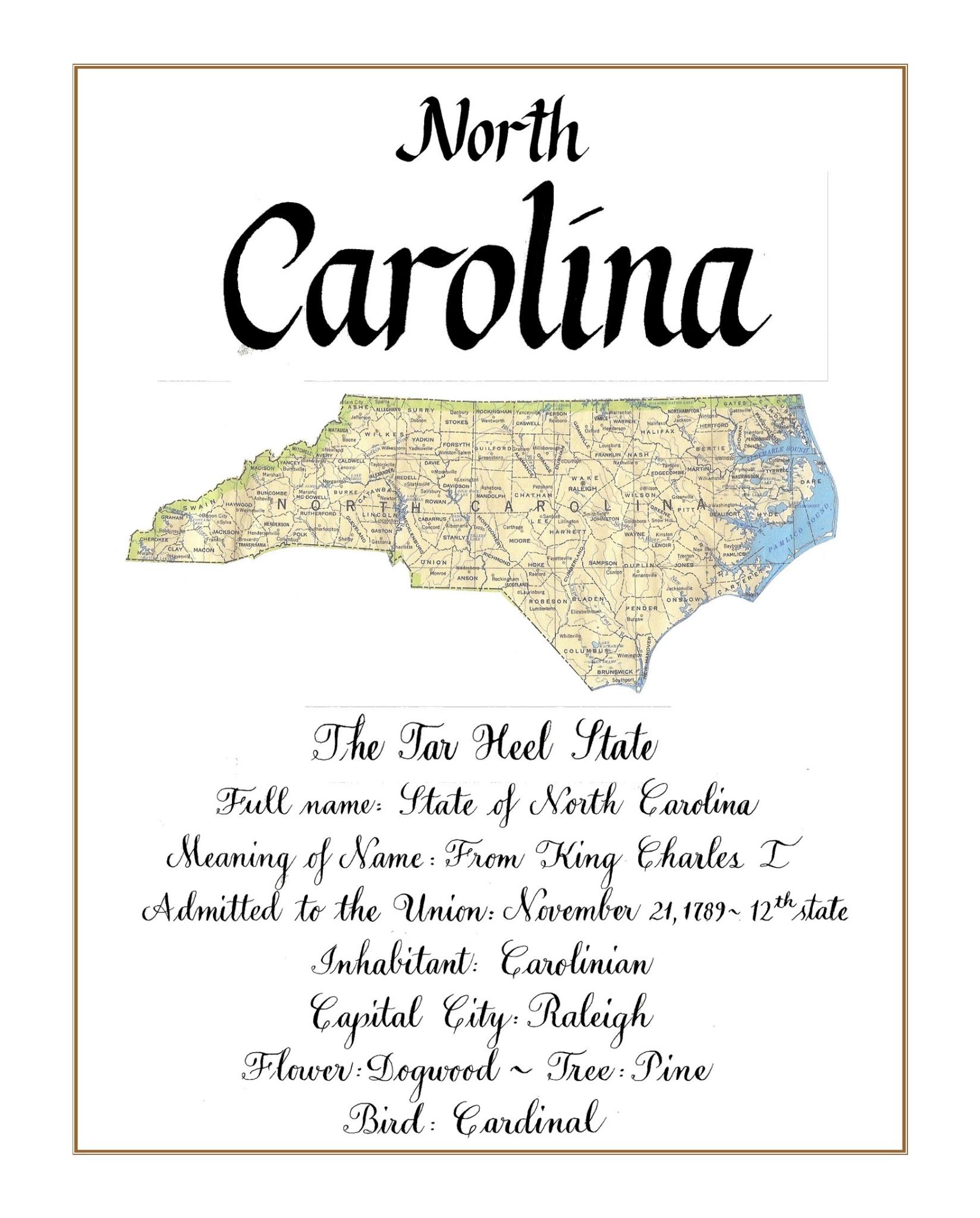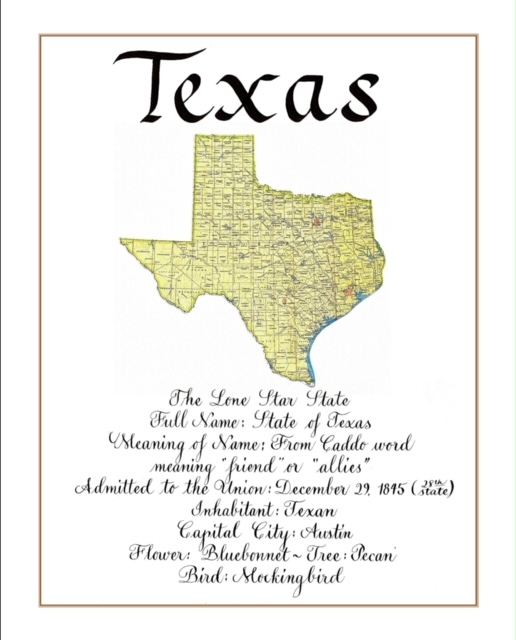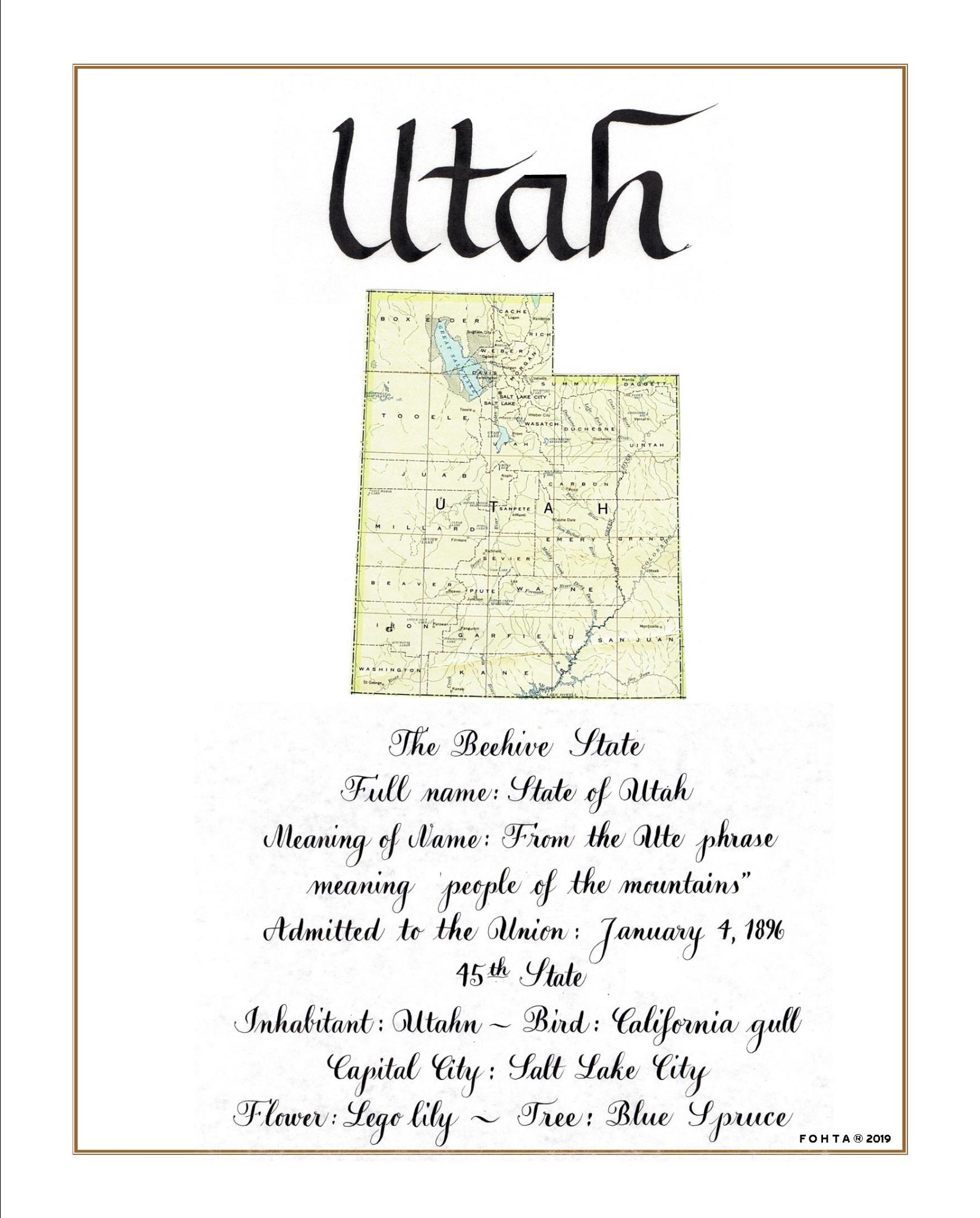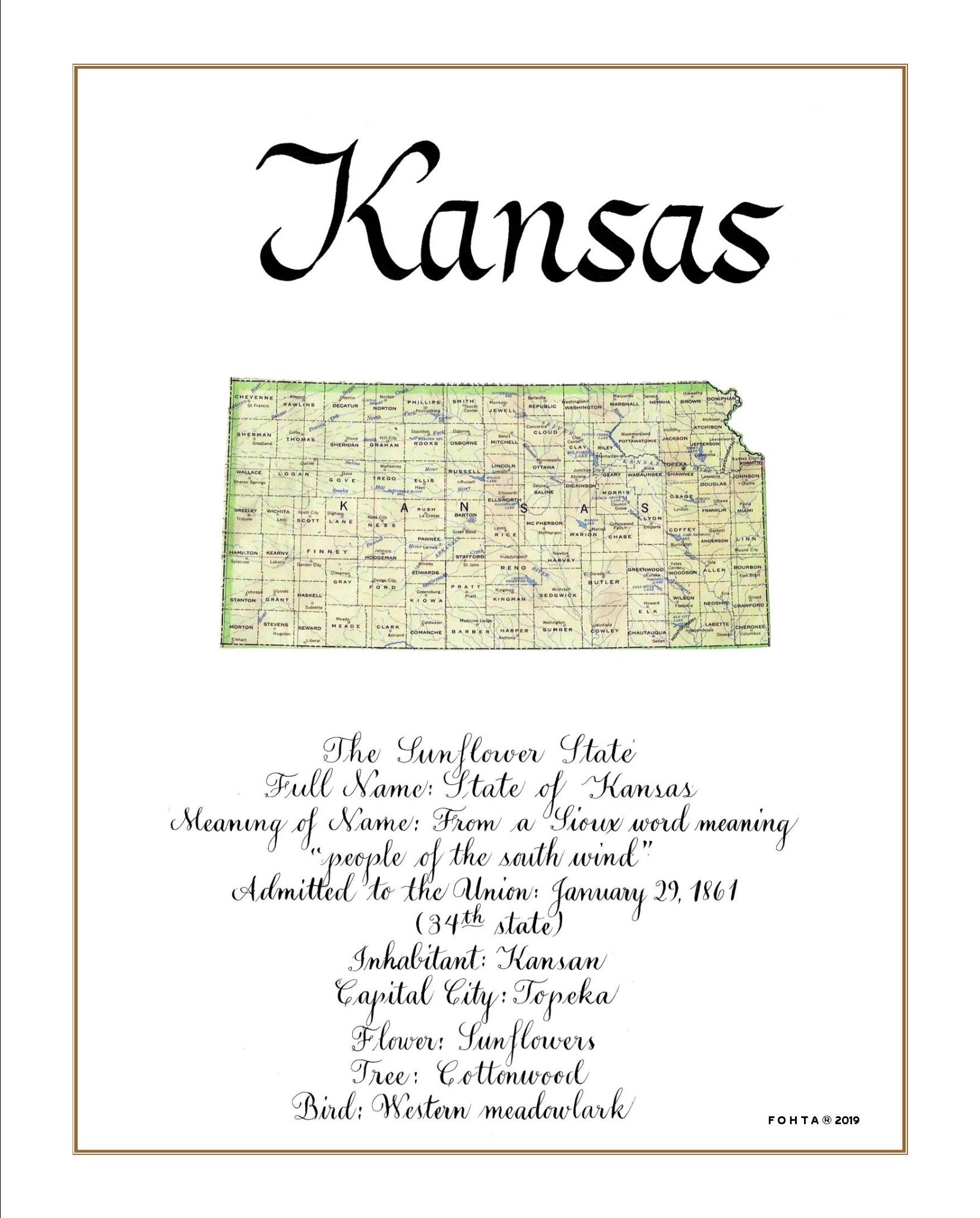 ALL PRICES INCLUDE VIRGINIA SALES TAX SHIPPING ORDERS USE " BUY NOW" BUTTON
Quintessential Quotesand Man Cave Quote
OVER 30+ QUOTES TO CHOOSE FROM
Local Orders use Cash App ($Fohta) or Paypal (Fohta)
FRAME RANGE: 11x14 - 16 X20
IT IS WELL
WITH MY SOUL
11x14

$63.00
THANKFUL
THANKFUL...
11x14

$63.00
John Lennon
11x14
"Love is the flower
you've got to let grow"
$63.00
Don Cornelius
11x14
"LOVE,
PEACE & SOUL"
$58.00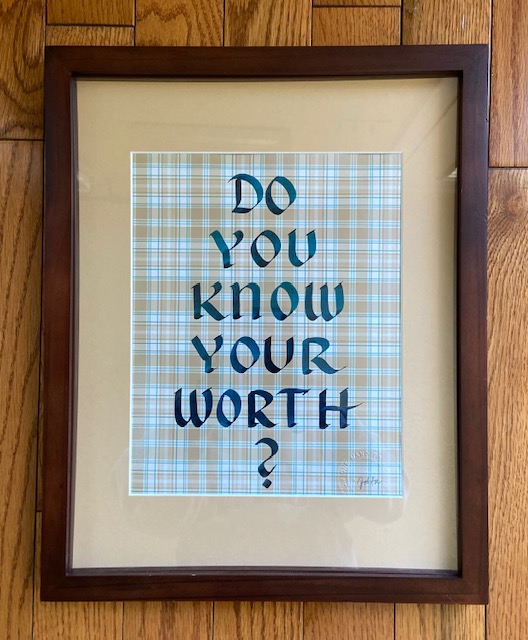 AUTHOR UNKNOWN
11x14
$60.00
Do you know
your worth?
$63.00
BASQUIAT

11x14
"It's not who you are that holds you back it's who you think you're not."
$63.00
MALCOLM X LITTLE
11x14
$45.00
"I believe in human beings and that all human beings should respected as such regardless of their color" $64.00
CARLOS SANTANA
11x14
$50.00
"What is an ego
something that thinks it's separate from GOD?
Each One
Teach One
11x14
WHEN AN ENSLAVED PERSON LEARNED OR WAS TAUGHT TO READ IT BECAME THEIR DUTY TO TEACH SOMEONE ELSE SPAWNING THE PHRASE..
$53..00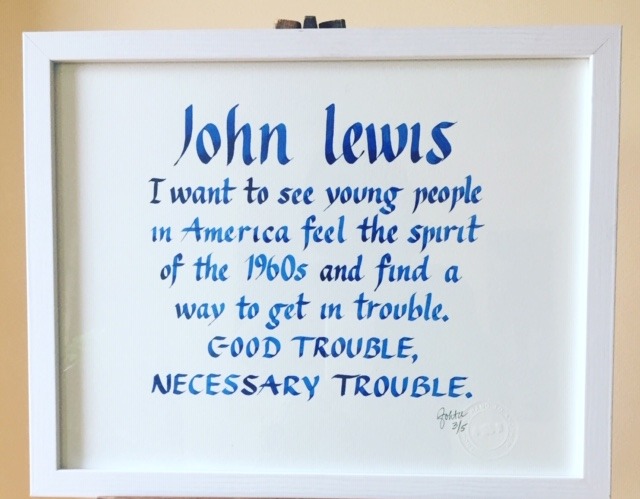 JOHN LEWIS

11x14
$45.00
"I Want to see young people in America feel the spirit of the 1960's and find a way to get in trouble, Good Trouble, necessary Trouble.
$64.00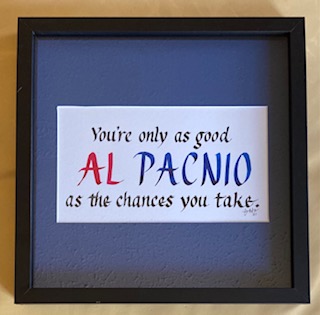 AL PACNIO
11x14
$45.00
"You're only as good
as the chances
you take"
$64.00

WALTER
CRONKITE
11x14
$45.00
" In seeking truth you have to get both
sides of a story."
$64.00
CLARENCE AVANT
11x14
"Life is about one thing, Numbers, nothing else."
$64.00
WILL SMITH
"Never underestimate the pain of a person, because in all honesty, everyone is struggling. Some people are better at hiding it than others."
$64.00
ED SULLIVAN
11x14
"If you do a good job for others, you heal yourself at the same time."
$64.00
MATTHEW MCCONAUGHEY
15x15
"I DON'T WANT TO JUST REVOLVE,
I WANT TO EVOLVE. AS A MAN, AS A HUMAN, AS A FATHER, AS A LOVER."
$64.00
BLACK HISTORY
11x14
IS EVERY SECOND
EVERY MINUTE
EVERY HOUR
EVERY MONTH
EVERY YEAR
IT'S A LIFETIME.
$53.00
LARRY KING
11x14
"THERE IS NOTHING IN YOUR DESTINY, NOTHING IN YOU FUTURE THAT YOU CANNOT ACCOMPLISH."
$64.00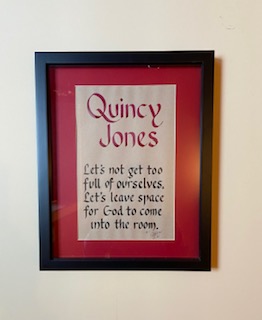 QUINCY JONES
11x14
"Let 's not get too full of ourselves. Let's leave space for God to come into the room."
$64.00
JOHN F. KENNEDY
DAVE CHAPPELLE
9X9
"Every
accomplishment
starts with the decision to try"
53.00


GORDAN PARKS
14x19
"The guy who takes a chance, who walks the line between the known and unknown; who is unafraid of failure, will succeed."
64.00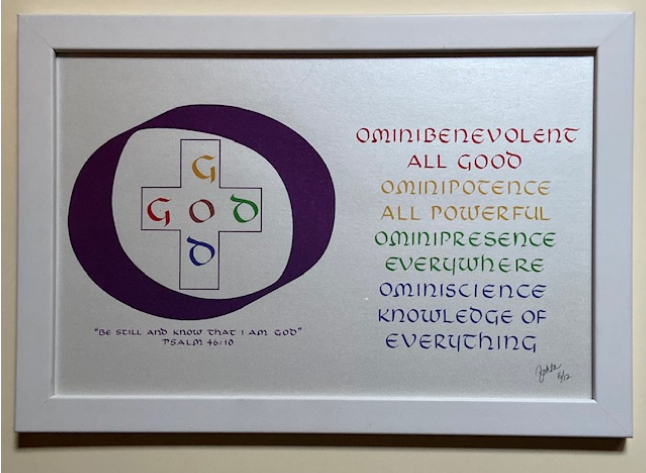 GOD
11x17
OMINIBENEVOLENT
ALL GOOD
OMINIPOTENCE
ALL POWERFUL
OMINIPRESENCE
EVERYWHERE
OMINISCIENCE
KNOWLEDGE OF EVERYTHING.
$53.00
SAY THEIR NAMES

$43.00
SAY THEIR NAMES POSTER
THE POSTER RECOGNIZES THE 1955 MURDER OF EMMETT TILL WITH A LISTING OF OTHER MURDERED BLACKS VICTIMS AND THE 2020 MURDER OF GEORGE FLOYD ENDING THE LIST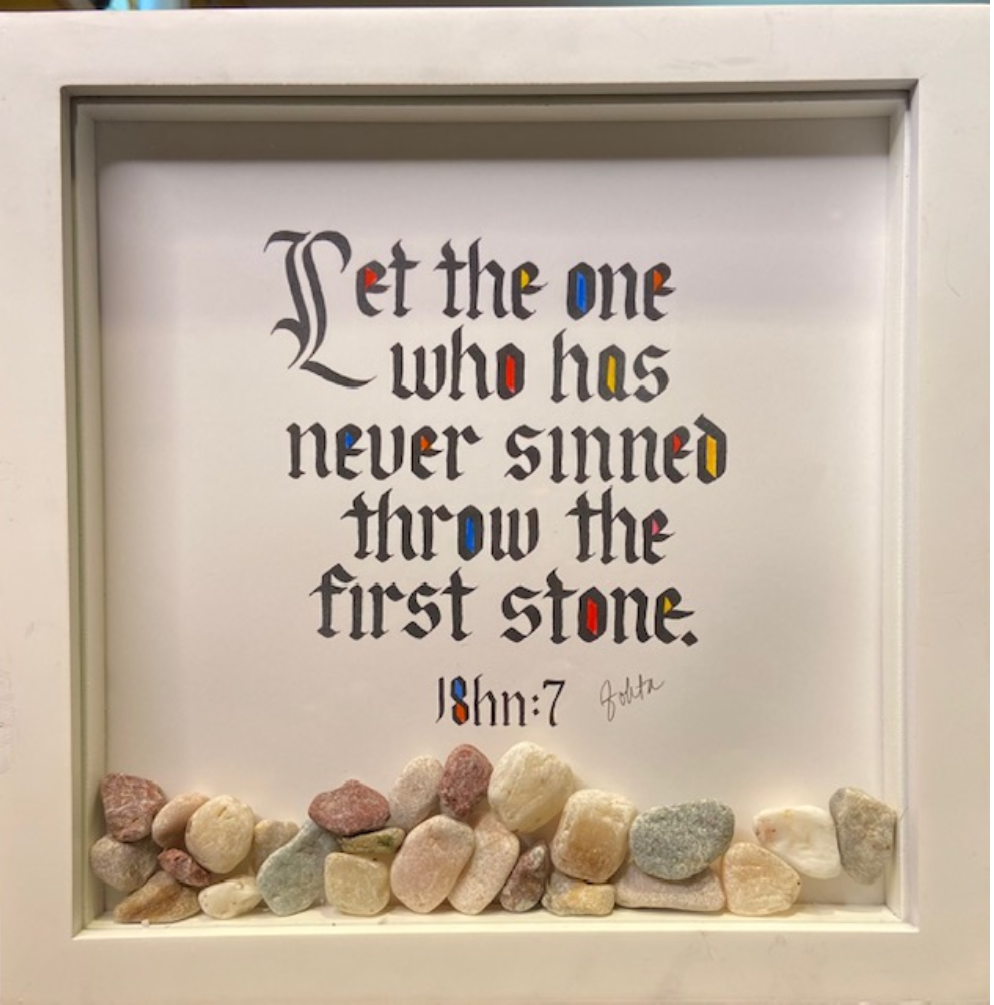 John 8:7
9x9
White Shadow box frame w/ Stones
$65.00
ROSA PARKS
12x12
"I have learned over the years that when ones mind is made up this diminishes fear."
$58.00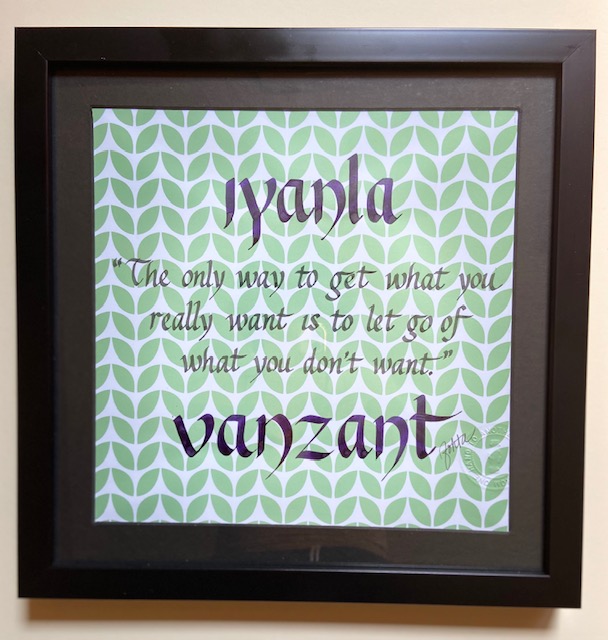 IYANLA
VANZANT
12x12
" The only way to get what you really want is to let go of what you don't want."
$58.00
Carlos Santana
11x17
"The most valuable possession you can own is an open heart.. The most powerful weapon you can be is an instrument of Peace."
$63.00
Maya Angelou
10x13
"You may shoot me with your words, you may cut me with your eyes, you may kill me with your hatefulness, but still, life air, I'll rise."
$58.00
RUBY DEE
12x12
" The kind of Beauty I want most is the hard- to-get kind that comes from with - - Strength, Courage, Dignity.
$58.00
Jada Pinkett Smith
12x12
'Have the courage to say what you need in the moment. Most people aren't mind readers."
$58.00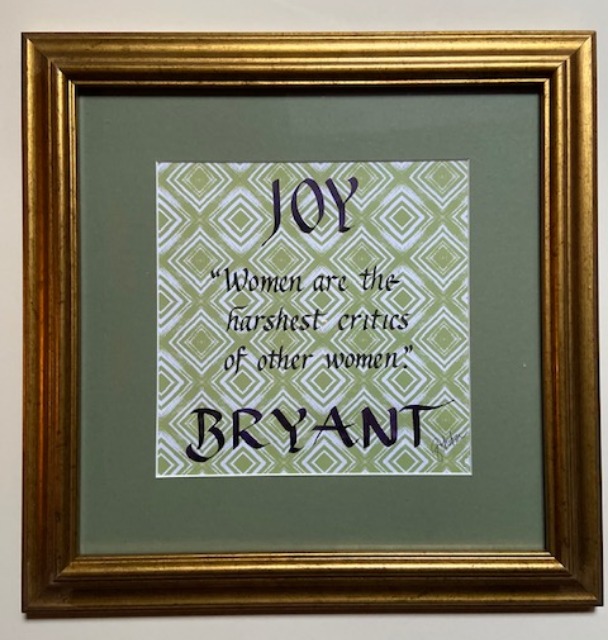 JOY BRYANT
12x12
"Women are harshest critics of other women."
$64.00
LADY GAGA
12x12
"If you don't have any shadows you're not in the light."
$64.00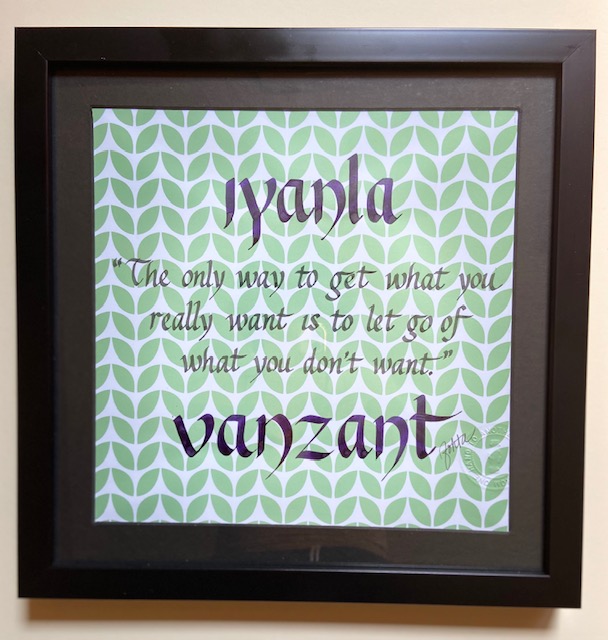 IYANLA
VANZANT
12x12
"The only way to get what you really want is to let go of what you don't want."
$64.00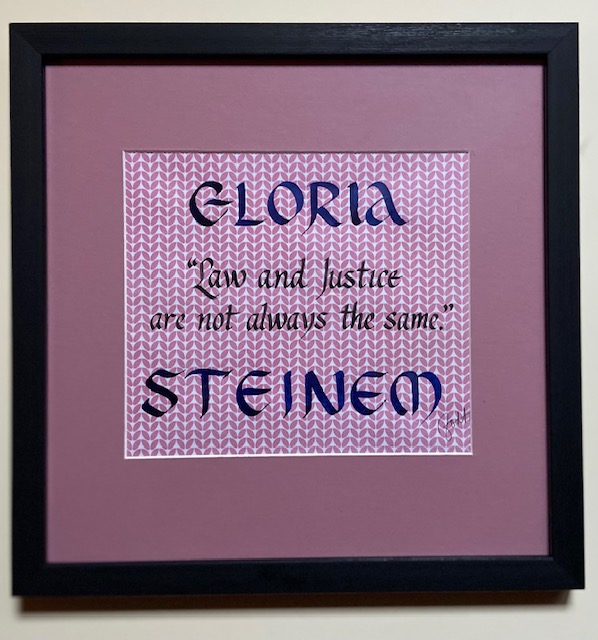 GLORIA STEINEM
12x12
"Law and justice are not always
the same."
$64.00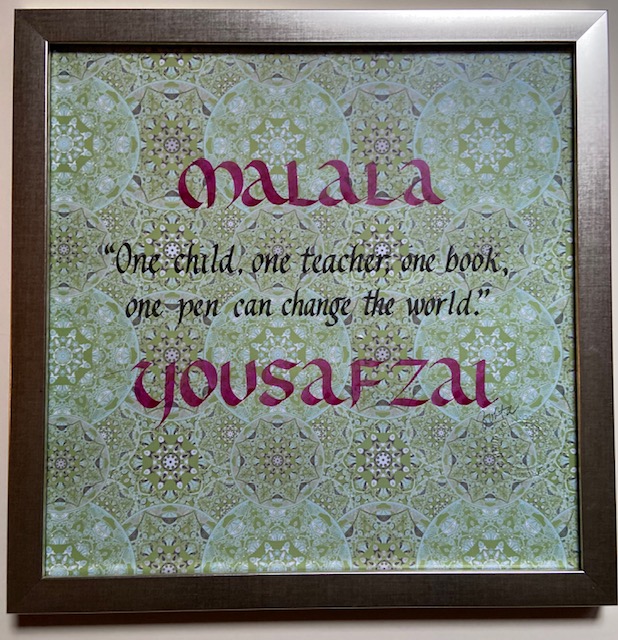 MALALA
YOUSAFZAI
12x12
"One child,
One Teacher,
One Book, One Pen
can change the world.
$58..00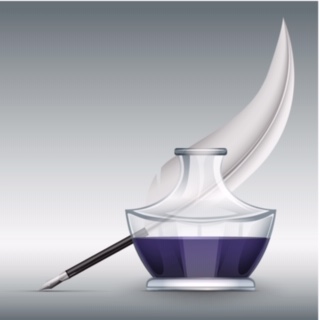 Have your own quote INKED by FOHTA

Free Estimate
Email quote to Fohta@Fohta.com



SOLD
11X14
BARACK OBAMA
"ANY FOOL CAN HAVE A CHILD.
THAT DOESN'T MAKE YOU A FATHER.
IT'S THE COURAGE TO RAISE A
CHILD THAT YOU YOU A FTHER."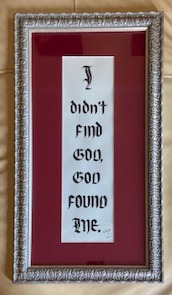 10 x 20

I DIDN'T
FIND GOD . . .
$85.00
GEORGE BERNARD SHAW
10x20
"WE DON'T STOP
PLAYING BECAUSE
WE GROWN OLD;
WE GROW OLD
BECAUSE WE
STOP PLAYING."
$69.00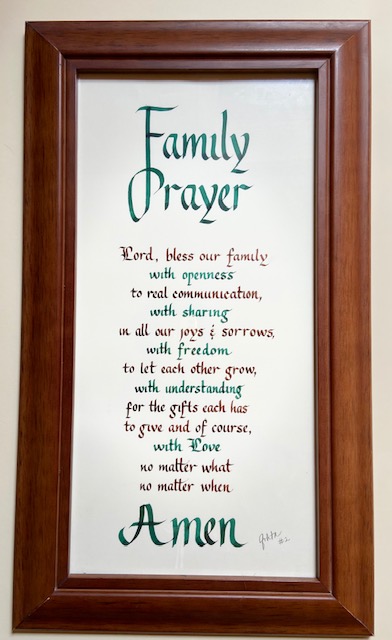 FAMILY PRAYER
10x20
LORD, BLESS OUR FAMILY WITH OPENNESS TO REAL
COMMUNICATION, WITH SHARING IN ALL OUR JOYS AND SORROWS, WITH FREEDOM TO LET EACH OTHER GROWN, WITH UNDERSTANDING FOR THE GIFTS EACH HAS TO GIVE AND COURSE, WITH LOVE NO MATTER WHAT NO MATER WHEN AMEN
$64..00
Seven Principles of
KWANZAA
19X50
Hang frame
special orders
KEHINDE WILEY
"In the 21st century when we're used to clicking and browsing and having constant choices, a painting simply sits there silently and begs you to notice the smallest of details."
$106.00
BIG SIX
11x14
The Big Six- Martin Luther King, Jr. James Farmer, John Lewis, A. Philip Randolph, Roy Wilkins,
& Whitney Young the leaders of six prominent civili rights organization who were instrumental in the
the organization of the March on Washington for Jobs and Freedom in 1963.
63.00
OH HOFFMAN BOSTON
11x17
Brown Wood Frame
SIGNED &NUMBERED
ONLY 100 PRINTS
to celebrate the centennial of
"HOFFMAN BOSTON
HIGH SCHOOL
$95.00
AMEN
16x20
amem
amen
amen
JESUS IS CALLED
" THE AMEN'
REVELATION 3:19
95.00

CASH APP
$FOHTA
LOCAL ORDERS
ALL PRICES INCLUDE
Virginia Sale Tax
PICK UP AT THE
FOHTA Gallery
PAYPAL
FOHTA
LOCAL ORDERS
ALL PRICES INCLUDE
Virginia Sale Tax
PICK UP AT THE
FOHTA Gallery
ALL MAJOR CREDIT CARDS
at the FOHTA Gallery
ALL PRICES INCLUDE

Virginia Sale Tax
SHIPPING ORDERS
USE
"BUY NOW"
BUTTON
MAJOR CREDIT CARDS ACCEPTED
DIAHANN CARROLL
10x20
"If you're not invited
to the PARTY
throw your own."
Original FOHTAscript
Print #2/ Floating frame
$84.00
TWELVE SCRIPTURES
16X29
Faith, Contentment, Love, Hope, Peace, Strength, Joy, Forgiveness, Grace, Prayer, Worry, & Wisdom.
$85.00
70X70
FORGIVENESS
16X20
Floating frame
Scripture
Matthew 18:21-22
$74.00
FAMILY PRAYER
10x20
Lord, bless our family with openness to real communication, with sharing in all our joys & sorrows, with freedom to let each other grow, with understanding for the gifts each has to give and of course, with Love no matter what no matter when.
$63..00
AUGUST WILSON
11X21
"YOU GOT TO
BE RIGHT
WITH
YOURSELF
BEFORE YOU
CAN BE RIGHT
WITH ANYBODY ELSE."
$74.00
12X36
THE SHEPHERD'S PSALM
THE LORD'S PRAYER
$95.00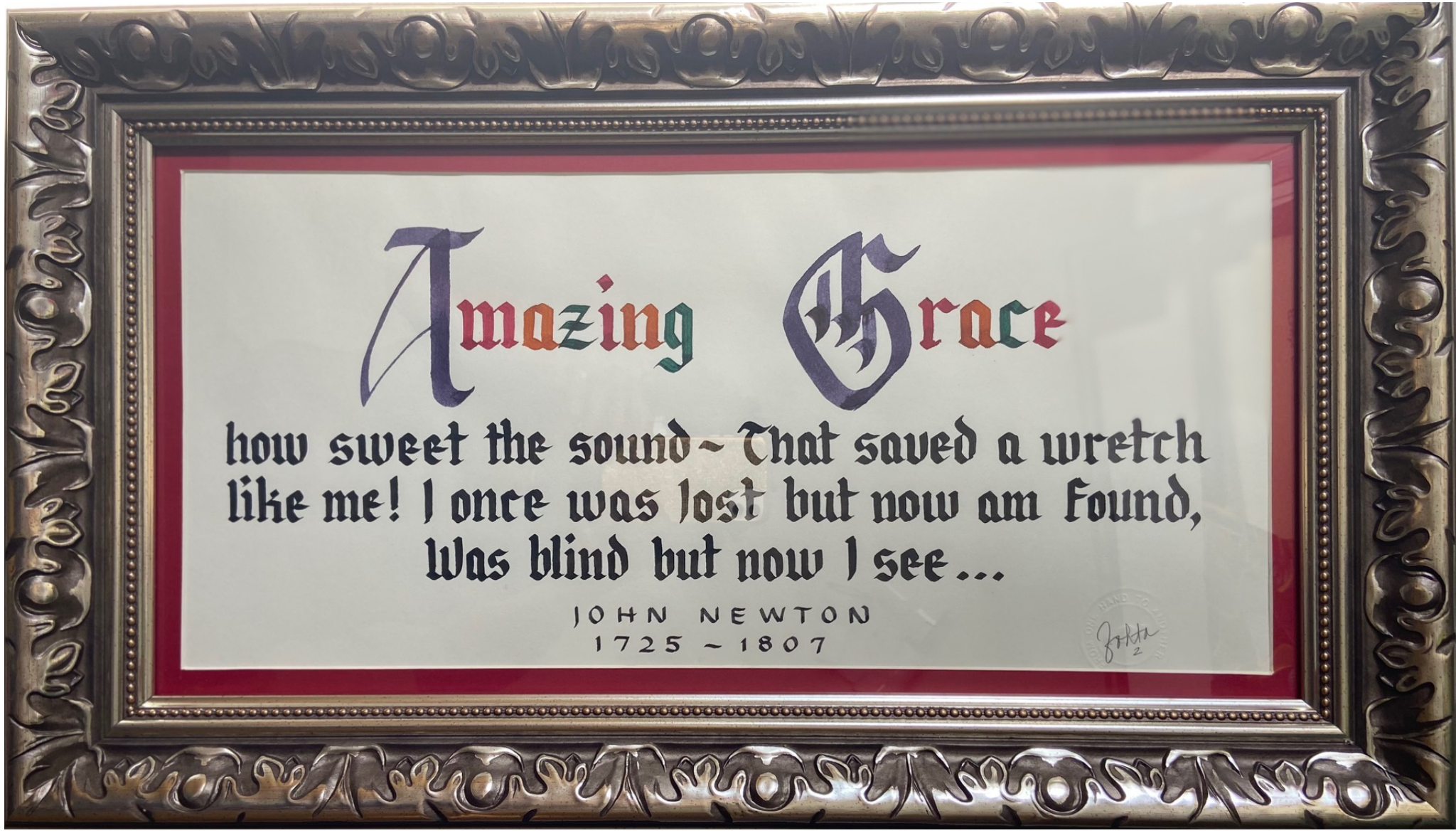 10x20
AMAZING GRACE
$106.00

CHITLIN' CIRCUIT
was a collection of historical African-American performance venue throughout eastern, Southern and upper Mid-West area of the United States during the segregation era.
MADAME C.J. WALKER INDIANAPOLIS, INDIANA * REGAL, CHICAGO, ILINOIS * FOX, DETRIOT, MICHIGAN * APOLLO, HALEM, NEW YORK * UPTOWN, PHILADELPHIA, PENNSYLVANIA * HOWARD, WASHINGTON DC * HIPPODROME, RICHMOND, VIRGINIA * ROYAL PEACOCK , ATLANTA, GEORGIA * RITZ, JACKSONVILLE, FLORIDA
$132.00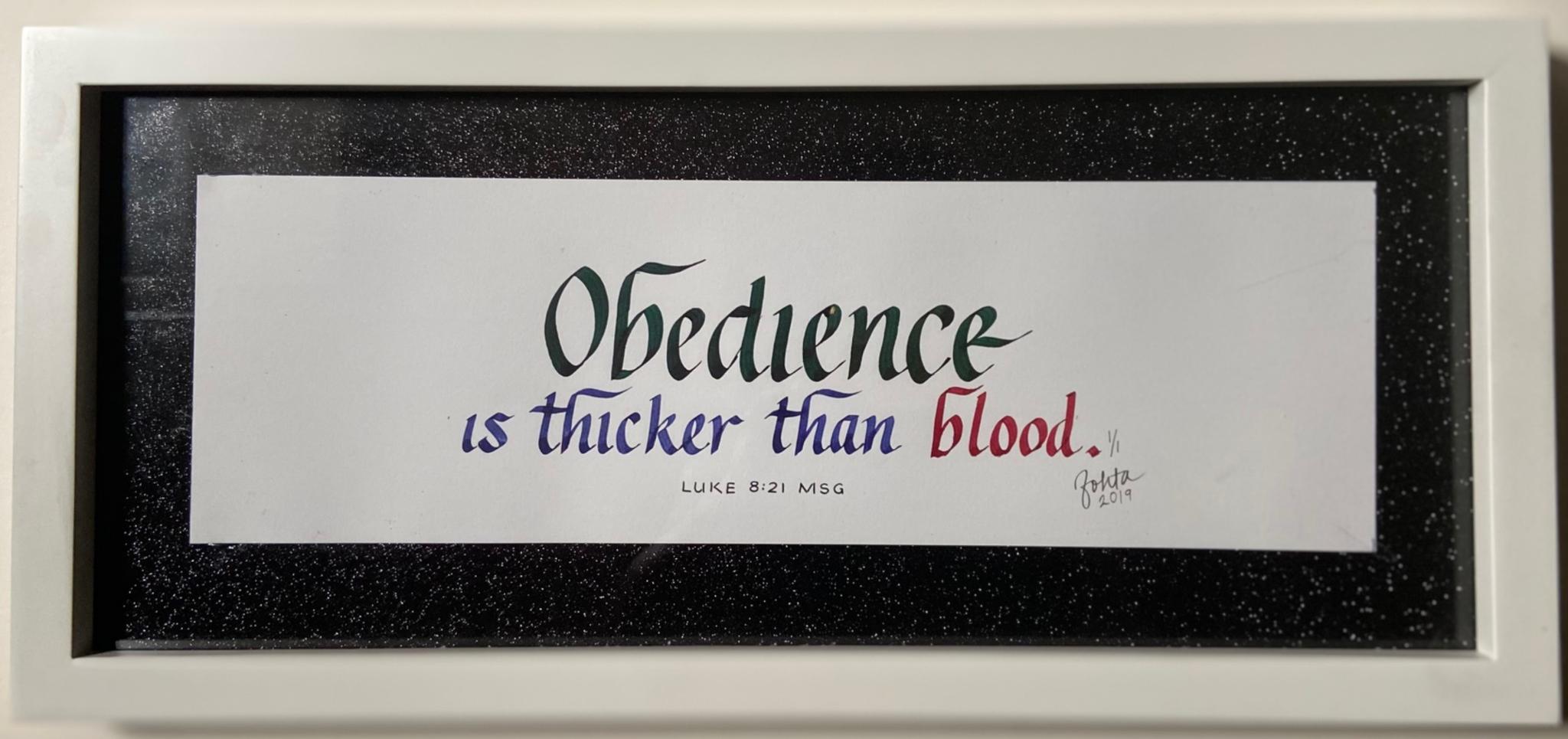 OBEDIENCE
IS THICKER THAN BLOOD.
$60.00
IT IS WELL WITH MY SOUL
$60.00
6X19
BLACK Wood Frame /W RED matted
Author of the hymn Horatio Spafford.
This is example text. Please click here to edit the text.
WIAN
What's in a name?
THE original fohta signature piece
Your name is a very important aspect of your personalit

y.
Scripture tells us that "A good name is rather to be chosen than great riches. "Each name plaque is elegantly done in calligraphy with a cultural origin, inherent meaning, spiritual connotation, supporting scripture and framed. 8.5X 11
THREE EASY STEPS;
1) SELECT YOUR DESIGNER PAPER
2) INPUT the name information
3) MAKE PAYMENT
Regular : $40.00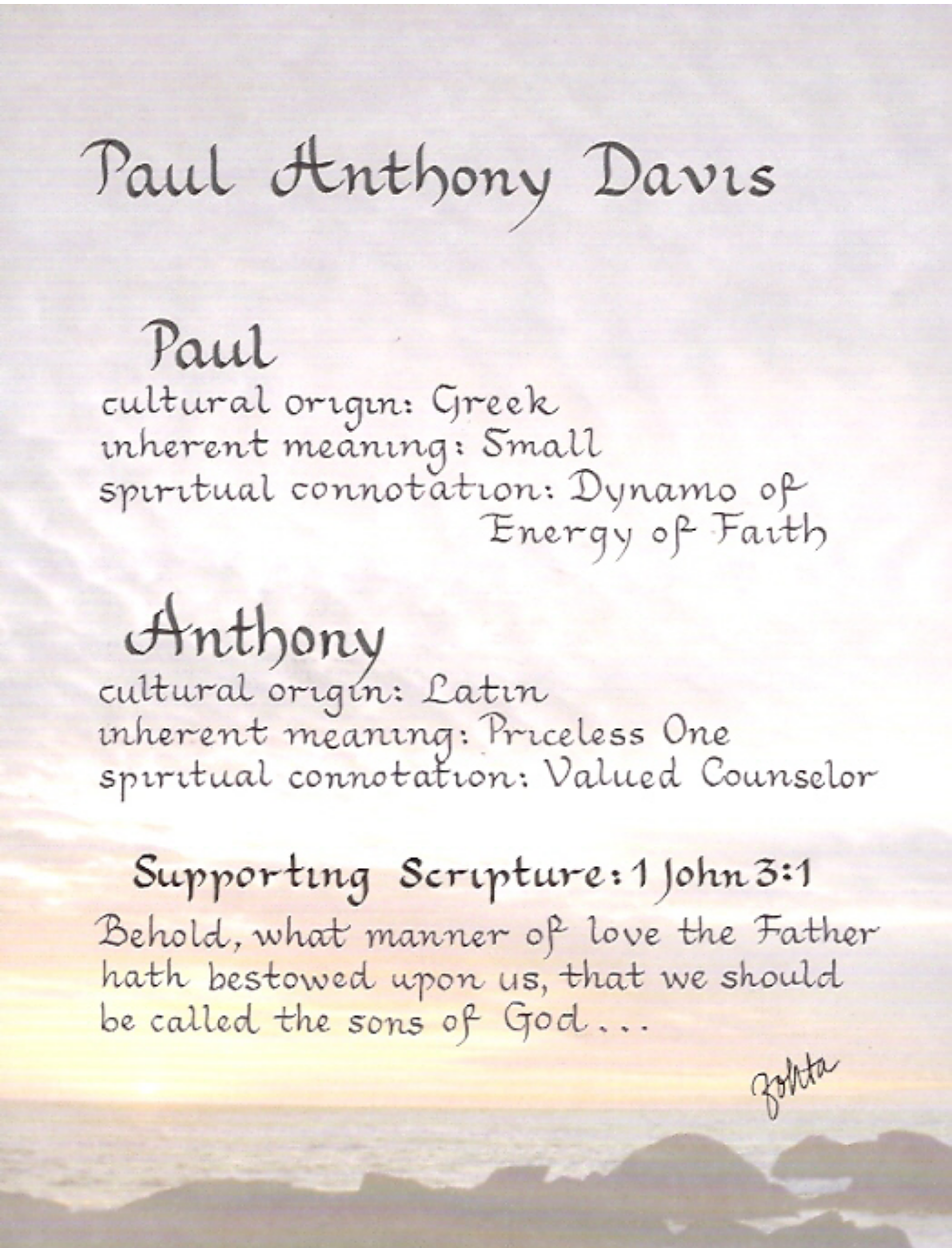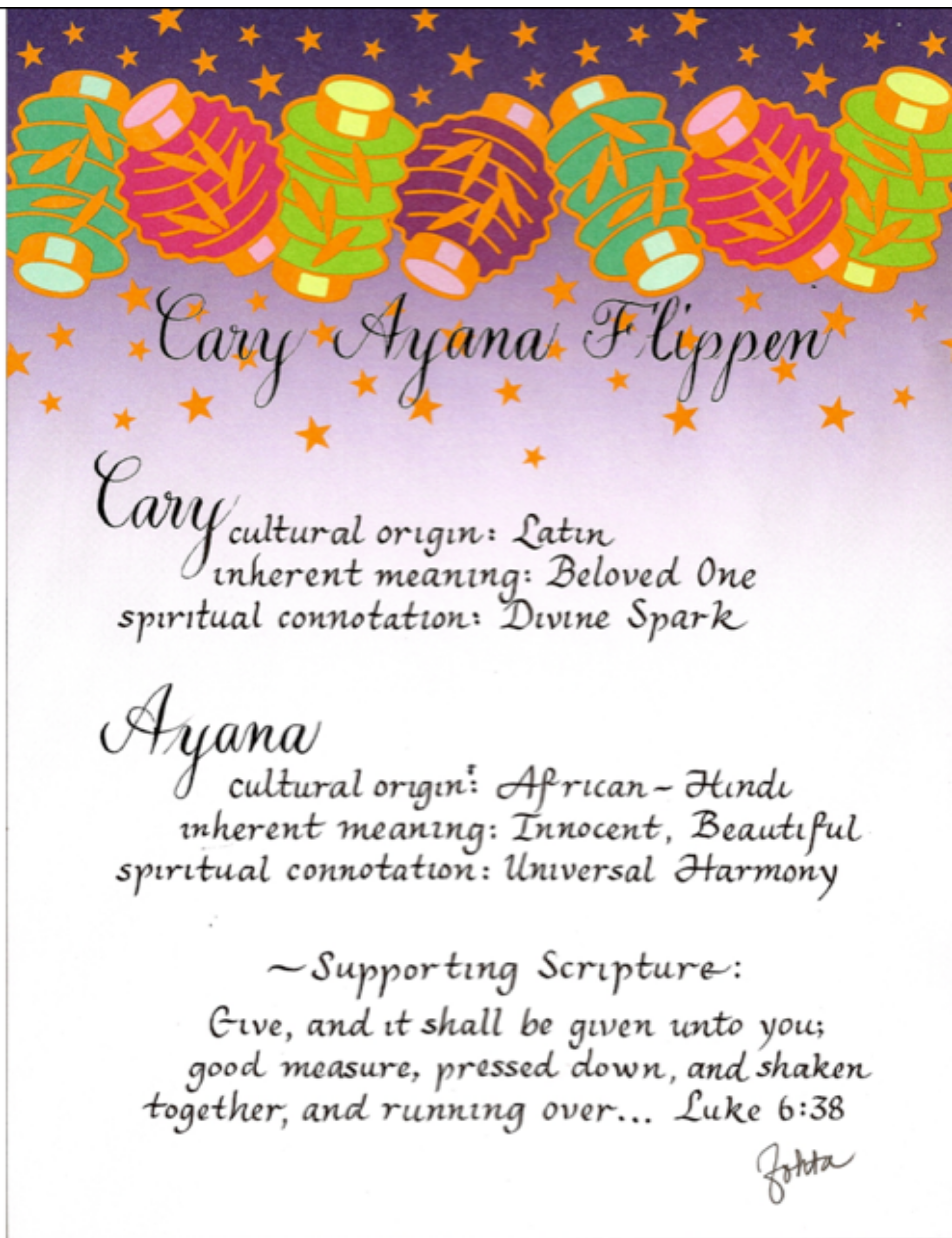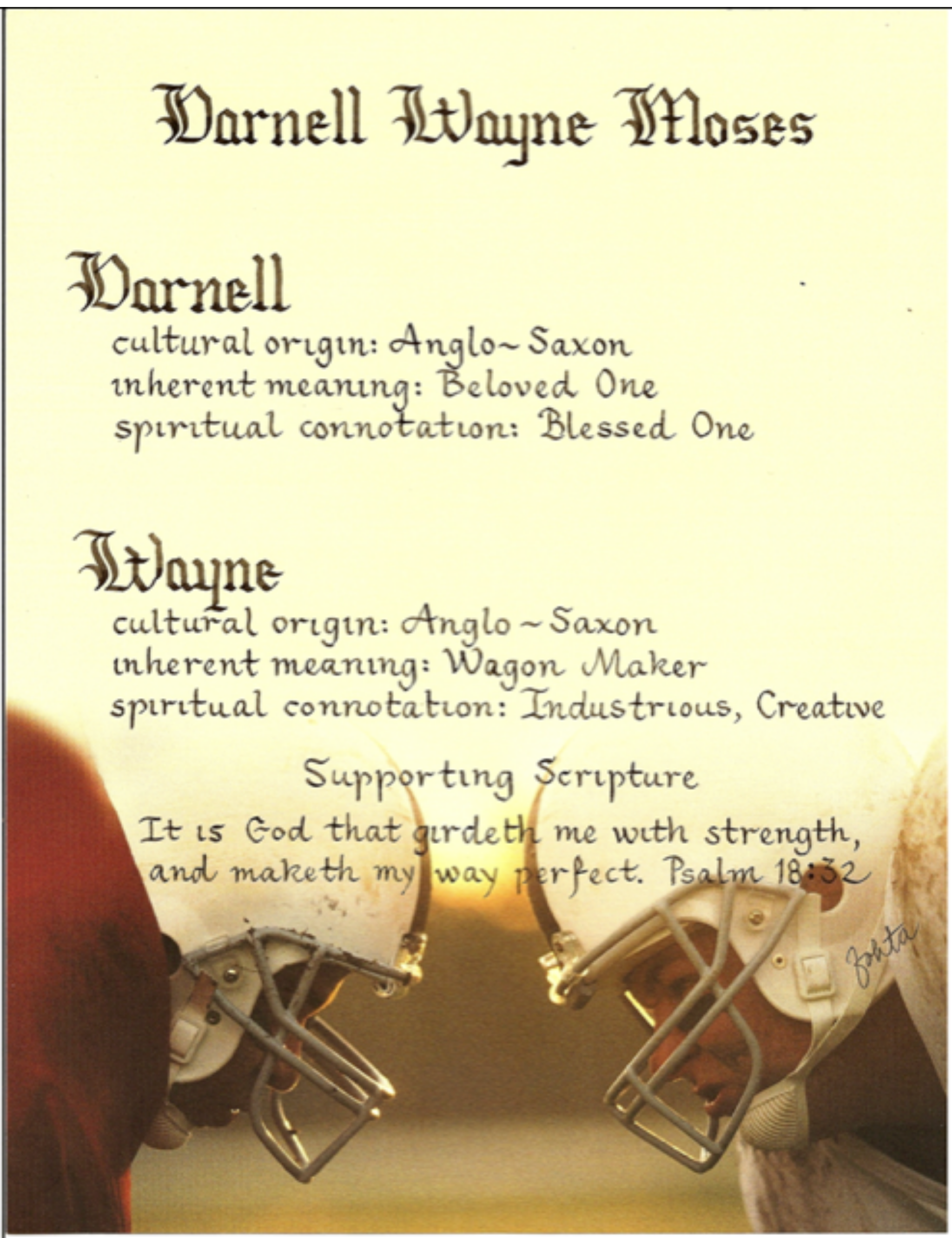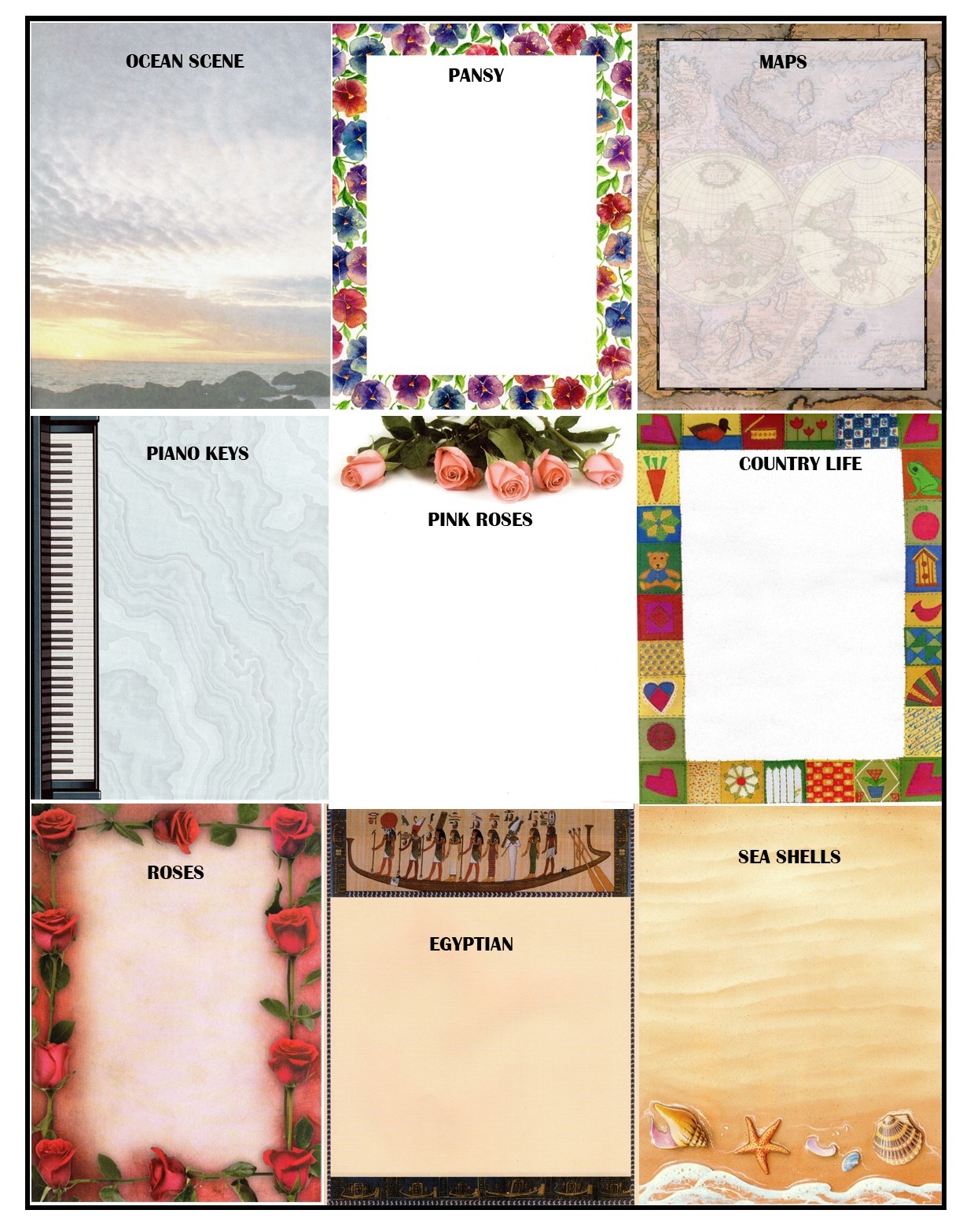 WIAN order instructions: In the "MESSAGE BOX" below type the
FIRST NAME - MIDDLE NAME -LAST NAME - BIRTH DATE(optional)
with paper selection of the person who is being INKED by FOHTA.
$40.00
LOCAL ORDERS ORDERS TO THE LEFT: SHIPPPING ORDERS TO THE RIGHT
INPUT THE NAME OF THE INDIVIDUAL YOU WANT TO WIAN BELOW
ENTREPRENEUR CORNER
GAME/
BOOKS

/

JOURNAL
CLICK
TOP3! GAMES™
Logo
Lyndsey McFail
DISCOUNT CODE FOR PICK UP AT FOHTA GALLERY: FOHTAGALLERY1
$24.99+ tax+ shipping
"YOU MUST BE A JONES"

A FAMILY MEMOIR
LYDIA JONES COLE
AVAILABLE IN PAPERBACK $19.00
*HARDCOVER $30.00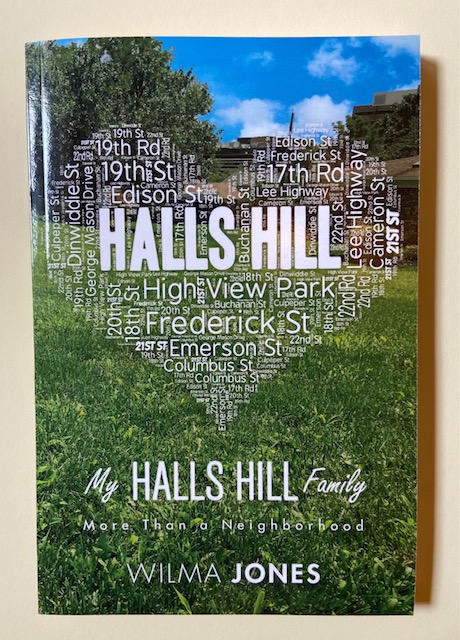 HALLS HILL

MY HALLS HILL FAMILY
WILMA JONES
AVAILABLE IN PAPERBACK
$20.00
The Manifest It!
Journal was created to walk you through the steps needed to go from desire to possession of the good you want in your life. With some instruction for daily practice, $17.00
$FOHTA
Use
CASH APP
for LOCAL ORDERS
𝗢

FROM LEE HIGHWAY TO LANGSTON BOULEVARD
by
Nadia & Arrington Conyers
$10.00

Order Here:
THE WALL

by
SCOTT TAYLOR
all proceeds go to the Black Heritage Museum
$15.00 & up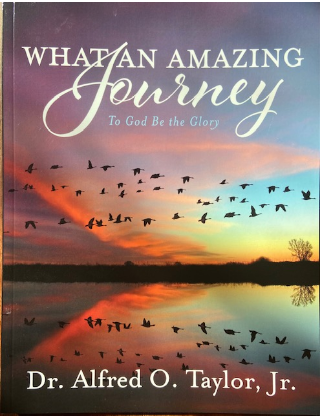 What An Amazing Journey
by
Dr. Alfred O. Taylor
$20.00
Bridge Builders of Green Valley
by
Dr. Alfred O. Taylor $20.00
$FOHTA
Use
CASH APP
for LOCAL ORDERS
ADDRESSING ENVELOPES
$2.25 PER OUTSIDE ENVELOPE
$1.50 PER INSIDE ENVELOPE
Return address elegantly done in calligraphy and transfer to clear mailing labels
($$ based on current label price)
!) Standard ink colors: Black, Blue, Brown & Red
3) Gurest List must be TYPED in address format:
Mr. & Mrs. Charles Brice
2900 South 17th Street
Arlington, Virginia 22204
From One Hand To Another®
is now taking applications for
FOHTA Gallery Space for 2022 season The FOHTA Gallery is a place
Artist, Jewelers, Musicians, Photographers to showcase their craft of talent.
DEADLINE MARCH 1, 2022
SHOWCASE YOUR ART OR TALENT at the FOHTA GALLERY

FEATURES: (1) Gallery Space (2) Present across all of FOHTA social media platforms (3) FOHTA website present (4) FOHTA Email a listing 500 active Fohtatrians (5) Hors d'oeuvres & Wine PERMITTED
Form for FOHTA Gallery Space for 2022
***In message box indicate: Artist, Musician, Meeting
Visual Artist Showcase $300.00 per month Showcase your art form for a flat monthly rate without any
commission cost forthe first month.
FOHTA Gallery will open Thursday - Sunday or by appointment
to showcase your art to the public.
Musician Showcase
$75.00 per hour
The FOHTA Gallery is an intimate venue to perform to 25 to 40 people
that you sell tickets & ensure crowd control.
FOHTA Gallery General Space
$50.00 per hour
Do you need space for your next meeting, meditation or yoga class?
The FOHTA Gallery is the perfect space.
FOHTA GALLERY VIRTUAL TOUR

From One Hand To Another is celebrating the year of 2021 with
"MAN CAVE Quotes"
Get Inked by FOHTA by sending your Quotes, Poems or Scriptures to FOHTA@FOHTA.COM to received a

FREE ESTIMATE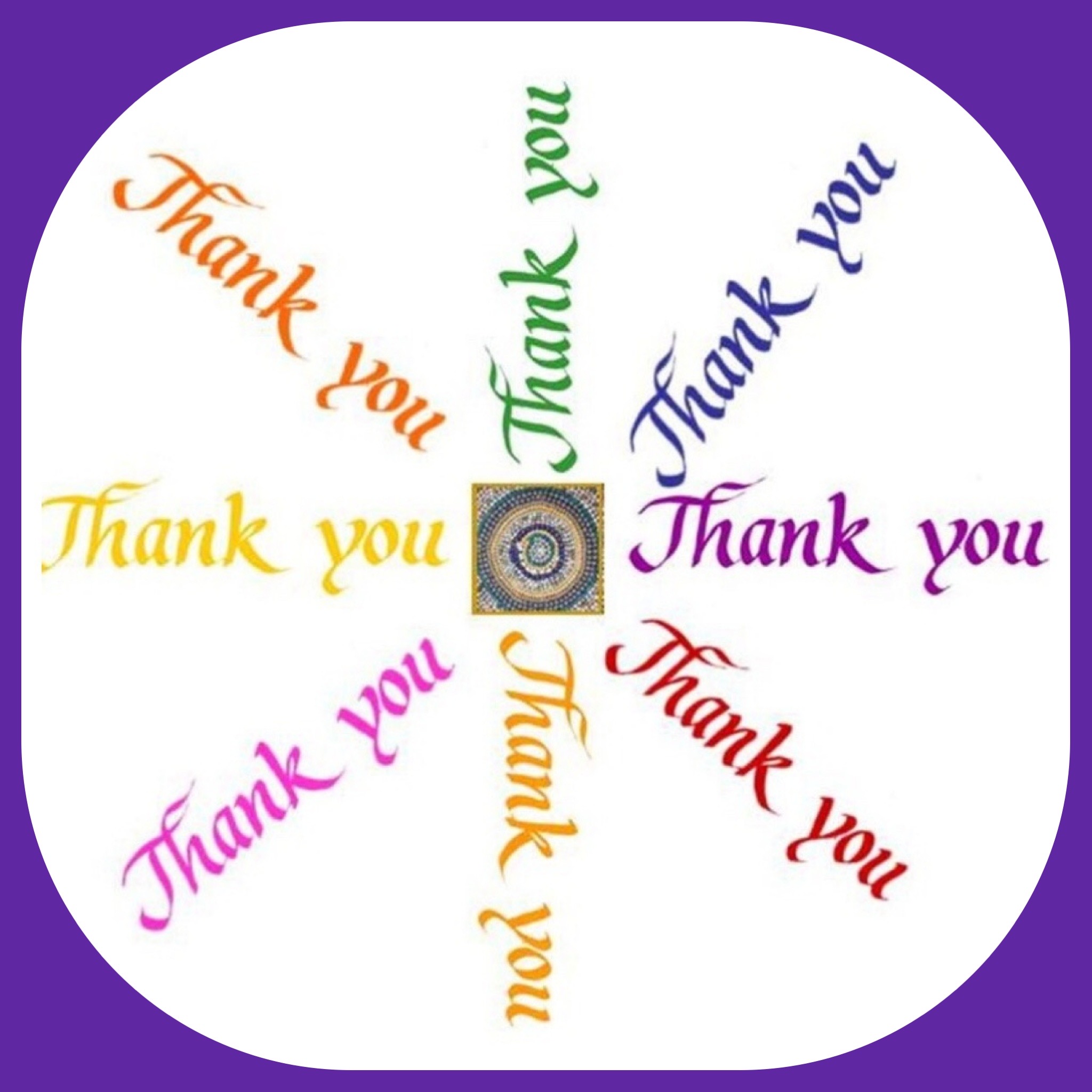 For visiting the
FOHTA Gallery Website.